Kreuz Market (And A New Challenge)
I first saw it at the dentist's office. I thought it was an older thing, but interesting. A few Google searches later, I found my next adventure. My next big task.
Eating at all top 50 BBQ joints on the Texas Monthly top 50 list and completing the Texas BBQ Passport!
Why? Because it's there. Because there are prizes. Because the majority of the joints are near Austin. Because why not?
The husband and I were in San Antonio when we decided we are doing this. We hit a Barnes and Noble, grabbed the latest issue of Texas Monthly, and decided to hit Kreuz Market in Lockhart, TX on the way back to Austin.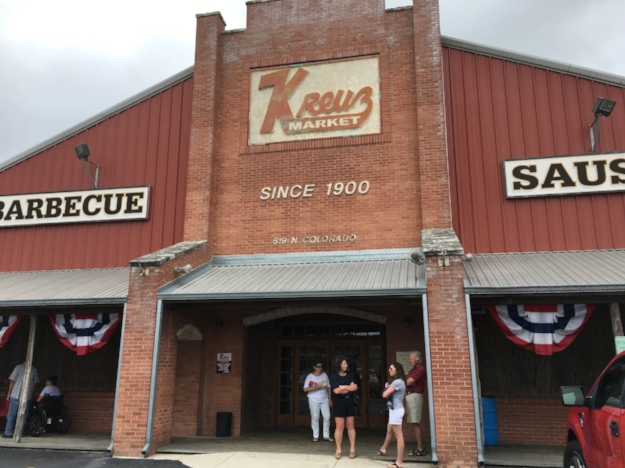 619 North Colorado Street
Lockhart, Texas 78644
(Population: 13,000)


#10 on the TX BBQ Passport
First stop
Entering Kreuz was awesome. If you were going to design a small town Texas BBQ place, this is pretty much what it would look like. It smelled amazing. Frankly, if you go to a BBQ place and you don't come out smelling like BBQ, they are doing it wrong.
The menu looked awesome - standard BBQ fare. The blurb in the passport said that Kreuz is known for their sausage, so we ordered that along with both lean (my preference) and fatty (my husband's) preference, and some ribs.
One odd thing on the menu was crackers - while white bread is a staple of most BBQ places, this was the first time I've been offered crackers, which were like Saltines.
The sign under the menu is when I began to grow concerned. While not having plates and eating on butcher paper isn't unusual, no forks is not something I've seen before. And goodness knows I've eaten a ton of brisket by picking at it with my fingers, but having a fork is a nice option.
I like my BBQ without sauce, but I like to have the option to have it - and I totally want some to dip bread in.
After ordering meat, we ordered sides. We ended up with potato salad, macaroni and cheese, and coleslaw.
Spoons and knives were okay, even if forks weren't.
Digging in, I found the lean brisket to be sticky. Like, sugary sticky. And since I didn't have a fork, it was not pleasant because I kept having to touch it. It was also dry and flavorless. The fatty brisket was extremely dry and tasted like overdone pot roast.
The sausage was excellent - super flavorful with a nice bite. And it was excellent on the crackers. The kids loved the macaroni and cheese. The potato salad was horrible - it had chopped up pickles or something in it - no one ate it.
Unable to use a fork, my daughter made a sandwich to avoid touching the sticky brisket.
Conclusion: Overall, our first BBQ stop was a bust. If in the area, I would recommend going for the ambiance but I know we can find better brisket elsewhere.
1 down, 49 to go!