Truth Barbeque
The kids were with my parents near Houston, so we took the opportunity to pick them up mid-way in Brenham and get some barbeque on the way.
(Fun fact: Google chrome's spell check doesn't consider "barbeque" an adequate spelling option.)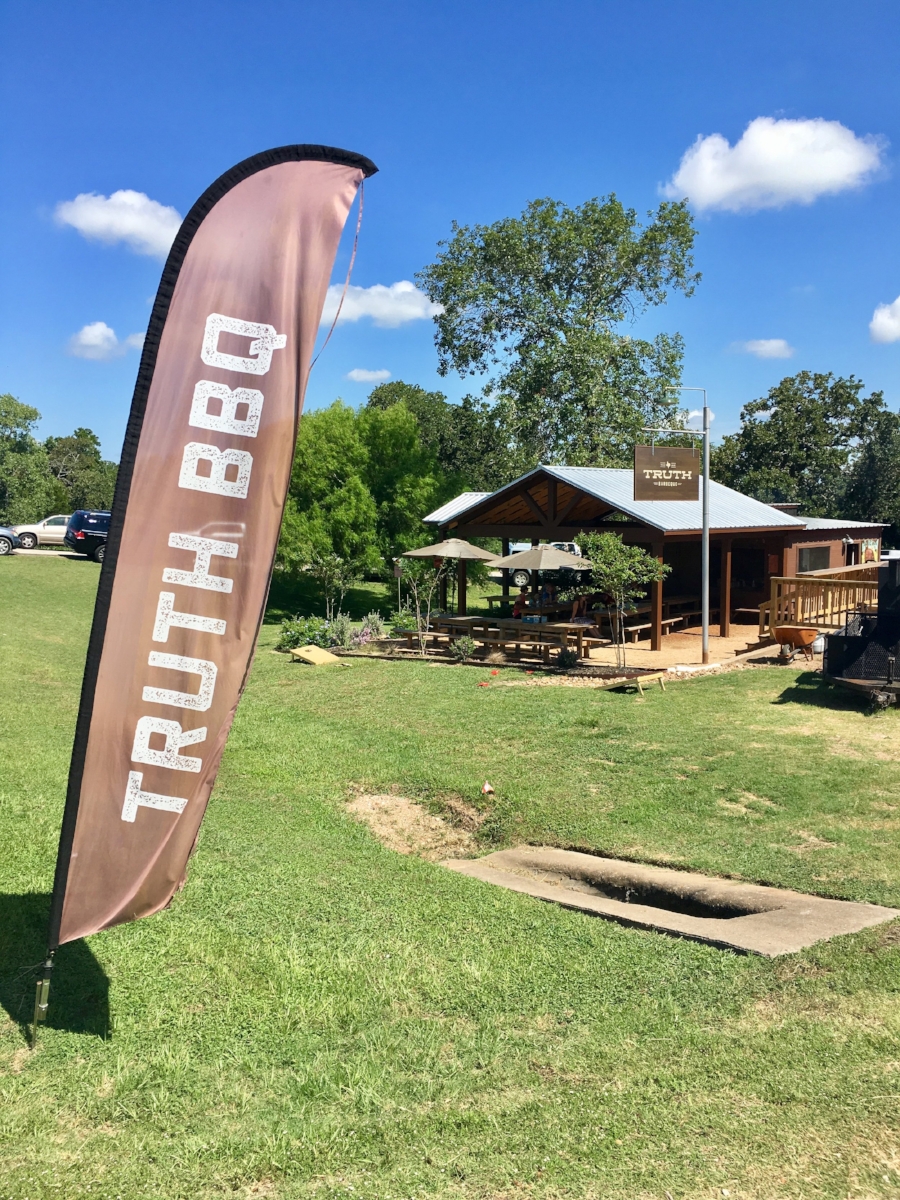 2990 US 290
Brenham, TX
#46 on the TX BBQ Passport
Seventh stop
We agreed to meet my parents at 11, and decided to get there a little early.
Truth is literally on the side of the road.
On the scale of 1 to giant pain in the ass, Truth Barbecue is on the pain in the ass side of the scale as it is only open three days a week (Fri - Sun but check their site.)
At 10:30 on a Saturday, there was a large line of people and spoiler alert, we waited about 90 minutes. However, they provided free Lone Star and water to the people in line, so I didn't care so much.
The line bent to stay in the shade. This was on July 8 so it was a million degrees, more or less.
This place was adorable. If you were looking for a barbeque place where you had to wait and it was super cute and it had free beer, this is the place for you. I totally meant to take a picture in front of the Love Texas sign and Instagram the crap out of it but I forgot.
As we got closer to the door we waited in the shade of the building.
We got happier as we got closer to the building.
While the majority of the seating was on a patio with umbrellas or in a covered area, there is seating inside. However, people will take pictures of you while you eat, so people who sit inside beware.
They gave us samples to munch on while waiting for our order. We fought over them. It was good.
Thank God no one takes pictures of me at my job. That must be annoying.
Shout out to this guy for specifically arranging the meat to be photo-worthy. (I now realize after some googling that he is the owner, Leonard Botello IV).
This is by far some of the best barbeque I've had in my entire life. The brisket was awesome. The fat was perfectly rendered. We had garlicky sausage and it was good. The pulled pork sauce was amazing. The bread appeared to be homemade and was awesome.
The sides were also amazing. The mac and cheese was awesome. The corn pudding was awesome.
These cakes were awesome. The chocolate was insanely rich and the banana cake (which I was annoyed we got - there were 6 different flavors and this wasn't my favorite) was some of the best cake I've ever had.
I only have two negatives. One - the bathrooms were not awesome. Try to hold it if you can and hit a gas station.
Two, my dad was in a wheelchair during this visit due to a knee injury and there was not a ramp or anything that made the place accessible. We managed to pull him up over a ledge and the team there helped us get him back out, but it was enough of a concern for me that I almost left before my parents got there.
Despite that, Truth Barbecue is number 1 on my list of places we've visited (so far!)